We are proud to announce the first NBC-23 keynote speaker:
Diana Visser, Vice President Sustainability, Corbion
Olivier Rolland, Global Director Strategic Initiatives - R&I L'Oréal for the Future & Green Sciences at L'Oréal
Jean-Paul Meijnen, Senior Director Organism Engeering, Ginko Bioworks
Diana Visser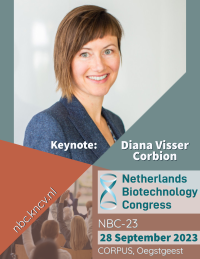 Diana Visser is Vice President of Sustainability at Corbion, a sustainable ingredients company dedicated to preserving what matters. Corbion specializes in lactic acid, lactic acid derivatives, food preservation solutions, functional blends, and algae ingredients, leveraging its advanced capabilities in fermentation and preservation technology to help differentiate products in food, home & personal care, animal nutrition, pharmaceuticals, electronics, medical devices, bioplastics, and more.
As VP of Sustainability, Visser leads the development of Corbion's long-term sustainability strategy, ambitions and measurable targets. She attended TU Delft, where she earned her MSc in chemical engineering and her PhD in biotechnology with a focus on metabolic engineering. Visser joined Corbion in 2001 in the role of scientist, contributing to the company's fermentation, metabolic engineering and process technology development, before progressing through a variety of managerial roles. After being appointed as Sustainability Director in 2015, she aligned Corbion's sustainability strategy with the UN Sustainable Development Goals (SDGs), and endeavored to more fully integrate sustainability into Corbion's overall business strategy. This work led to her being named 2020 SDG Pioneer of the Netherlands by the Global Compact Network Netherlands.
Olivier Rolland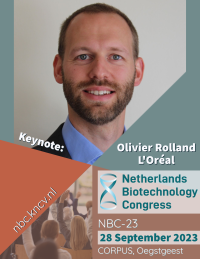 Olivier recently joined L'Oréal as Global Director, L'Oréal for the Future / Green Sciences Strategic Initiatives after serving as member of L'Oréal Scientific Advisory Board since 2022. He spent the last 15 years in running organizations and developing strategies, value chains and products in the bio-economy. He notably grew TWB, a French public / private industrial biotechnology organization that transitions early stage R&D into preindustrial development projects and start-ups, into a sustainable service business (€10M+/y revenues, 100 people). He contributed also to the development of sustainable aviation fuels (SAF) at Boeing where he led the global strategy to enable innovative SAF value chains and at TotalEnergies and Amyris where he led the development of the 1st sugar-based SAF, for which he received the Presidential Green Chemistry Award from US Environmental Protection Agency. Olivier also started Michelin biotechnology activities focusing on bio-sourcing monomers. He holds a PhD in chemistry, achieved at Rhodia (now Solvay). Olivier is currently serving as France 2030 ambassador for sustainable materials (appointed in 2022).
Jean-Paul Meijnen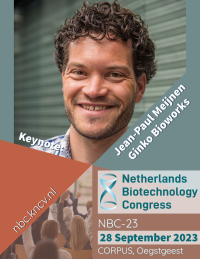 Jean-Paul Meijnen is Senior Director Organism Engineering at Ginko Bioworks, and Managing Director at Ginko Bioworks Netherlands. The mission of Ginko Bioworks is to make biology easier to engineer, using state of the art technology for DNA synthesis, laboratory automation, and high performance analytics.
The resume of Jean-Paul Meijnen is impressive. He studied in Wageningen, did a PhD in Delft and a post doc at the Flemmisch Institute for Biotechnology. He then switched gears and moved to industry in the role of Scientist with Dyadic, which was later acquired by DuPont Industrial BioSciences, focussing on enzyme production and innovation. In 2018 he joined Dutch DNA Biotech, where he became director of R&D and responsible for the platform technology to develop fungal strains and fermentation processes for the production of proteins and organic acids. After Dutch DNA Biotech was acquired by Ginko Bioworks, Meijnen continues his work on engineering microbes for a wide range of applications, and is in charge of the Dutch foothold of Ginko Bioworks.
Invited speakers
Ákos Kovács, Professor Microbiome Ecology, Leiden University
Mathieu Streefland, Vice President Global Process Development, UniQure
Kirsten Herben-Steinbusch, Chief Technology Officer, DAB.bio
Harry Raaijmakers, Principle Scientist Green Chemistry, Royal Cosun
Lotte Asveld, Associate Professor Ethics & Biotechnology, Delft University of Technology
Clemens Mayer, Associate Professor Molecular Evolution, University of Groningen
Virgil Rerimassie, Scientific staff member, Health Council of the Netherlands and CEG