We are proud to announce the first NBC-23 keynote speaker:
Diana Visser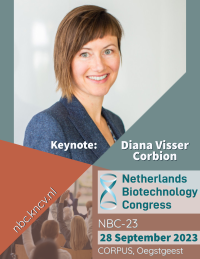 Diana Visser is Vice President of Sustainability at Corbion. Corbion is known for producing lactic acid applications using fermentation of sugars for the food, chemical and pharmaceutical industries. Since 2018 they also produce polylactic acid (for bioplastics) from biomass.
As VP of Sustainability, Visser leads the development of Corbion's long term sustainability strategy, ambitions and targets.
Visser studied chemical engineering at TU Delft and did her PhD on metabolic engineering in the department of Biotechnology of TU Delft. She joined Corbion in 2001 in the role of scientist where she contributed to the fermentation, metabolic engineering and process technology development. She continued her career in several managerial roles leading up to the position of Sustainability Director in 2015. In that role she aligned the Corbion strategy with the Sustainable Development Goals (SDGs), which, amongst others, led to her being elected SDG Pioneer of the Netherlands awarded by the Global Compact Netwerk Nederland.
Jean-Paul Meijnen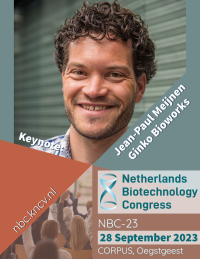 Jean-Paul Meijnen is Senior Director Organism Engineering at Ginko Bioworks, and Managing Director at Ginko Bioworks Netherlands. The mission of Ginko Bioworks is to make biology easier to engineer, using state of the art technology for DNA synthesis, laboratory automation, and high performance analytics.
The resume of Jean-Paul Meijnen is impressive. He studied in Wageningen, did a PhD in Delft and a post doc at the Flemmisch Institute for Biotechnology. He then switched gears and moved to industry in the role of Scientist with Dyadic, which was later acquired by DuPont Industrial BioSciences, focussing on enzyme production and innovation. In 2018 he joined Dutch DNA Biotech, where he became director of R&D and responsible for the platform technology to develop fungal strains and fermentation processes for the production of proteins and organic acids. After Dutch DNA Biotech was acquired by Ginko Bioworks, Meijnen continues his work on engineering microbes for a wide range of applications, and is in charge of the Dutch foothold of Ginko Bioworks.
Olivier Rolland
Olivier Rolland is director of the Toulouse White Biotechnology, a pre-industrial demonstrator in the field of industrial biotechnology with a mission to further develop the bioeconomy based on the use of renewable carbon.
Rolland was trained as a chemist in Lyon, USA, with a PhD from Université Paul Sabartier in Toulouse. He started his career in 2010 at the Michelin Technology Center where he worked on biotechnological processes for the production of raw materials for rubber. He continued his career at Total, where he became responsible for the biotechnology activities of the Total New Energies unit, and later became in charge of the alliance with Amyris, the US leader in synthetic biology. In this context, he led the development of the first aviation biofuel produced from sugar by fermentation. Prior to his current role, Rolland was Director of Sustainable Fuel Strategy at Boeing, where he led the global strategy to enable innovative regional biofuel value chains.