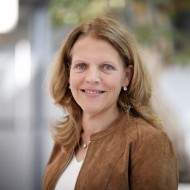 Hanneke Schuitemaker will close NBC-20 with a talk about "Janssen's efforts in the development of a COVID-19 vaccine"
Hanneke Schuitemaker was trained as a medical biologist at the VU University Amsterdam and during her PhD she conducted research into AIDS/HIV, a subject that was very much in the spotlight at the time. In 2004 she was appointed professor of virology at the Faculty of Medicine of the University of Amsterdam. After 20 years of HIV research, she accepted an from Crucell. There Schuitemaker could take up the challenge of combining applied research with vaccine development. In September 2010, a few weeks after Schuitemaker started at Crucell, it was announced that Crucell would be acquired by Johnson & Johnson (J&J). Since February 2011, she has been responsible for J&J's global portfolio of viral vaccines, based at Janssen Vaccines in Leiden.
During NBC-20, Schuitemaker will talk about her team's work since January of this year to develop a COVID-19 vaccine.
Read more about Hanneke Schuitemaker in the interview in C2W (Dutch only).