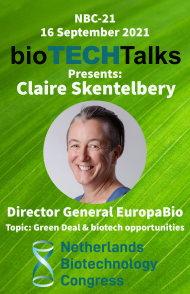 Claire Skentelbery will close NBC-21 with a talk on Biotech opportunities in Europe
Claire holds a PhD in biochemistry and has worked in the development of scientific networks and associations for over 15 years. She started her career as part of the Cambridge biotech cluster in the UK within the cluster business network and was a founder of the Council of European BioRegions, a network of biotech clusters across Europe. She brought herself and CEBR to Brussels in 2009 where she also took on the role of SG for the European Biotechnology Network, working across sectors, organisations and countries as part of the EBN mission to facilitate partnerships. Currently, Claire leads EuropaBio (the European Association for Bioindustries) as Director General.
During NBC-21, Claire will talk about the role of the biotechnology sector in the European Green Deal and Farm to Fork program, and the obstacles that the sector encounters.